A beautifully presented hard back book of A Child's Garden of Verses by Robert Louis Stevenson and illustrated by Michael Foreman in this magical new edition from Otter-Barry Books.
The verses were first published in 1885, so reflect quite a different era. In 1985, Michael Foreman created the wonderful water-colour illustrations which bring a soft and ephemeral magic to the poems.


This latest edition published in 2017, from Otter-Barry has a foreword from Alexander McCall Smith, who begins by saying about Stevenson," He not only knows what children like, but he likes it along with them"
McCall Smith tells of Stevenson's childhood in a family of lighthouse engineers, but he suffered from ill-health and spent much time in his sickbed. May be that it was here that he dreamed and thought of the world beyond. It was also in the Victorian times, when travel to far away places was possible for those with money to spend.
The poems are a delight and can conjure up images of gentle childhoods, as in The Swing,
Till I look down on the garden green,
Down on the roof so brown
Up in the air I go flying again
Up in the air and down.
One of my favourite illustrations is from My Shadow, a poem that will stay with you once read.

This book will make a wonderful present  and will add to any school, library and home collection. I am off to read some of the poems now, by the fireside and ready to dream!
Sue Martin
Books Go Walkabout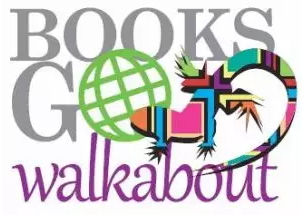 Bookmonitor is our news source for reviews and project information.
Books go Walkabout
is our international books and literacy project - connecting authors and illustrators with children and young people around the globe.
We use Stripe to handle your e-purchase. Buy with confidence from BgW.
Customer FAQ's here.