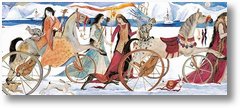 Jackie Morris was in Covent Garden on 12th September, well actually, in the beautiful Swiss Church in Endell St, Covent Garden, to show her new Christmas card design and to talk about her life in writing and illustrating.
The talk was on behalf of Help Musicians UK and proceeds from sales of Jackie's designed card will go to support musicians of all ages and Jackie also donated prints of her work to be auctioned.
Jackie talked about how she includes all of her life into her art and writing, her walks at St David's and into the fields and with views across the sea and hares racing across the fields.
Engaging, creative and just beautiful,and sitting in the midst of the London hubbub, it is easy to drift away into that delight of the Pembrokeshire countryside and wish you were there.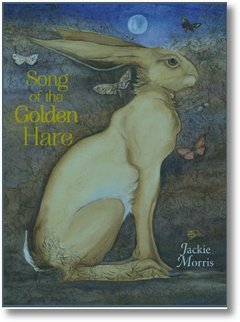 Her latest book,The Song of the Golden Hare, published by Frances Lincoln is out in print in October. It's a must!
Follow Jackie's work through her blog and on facebook. You can buy the cards too from Help the Musicians and you can buy her books, details on her website.
We are pleased to work with Jackie on getting her stories and books to the children, who don't have much chance to see them.
Contact us to find out more about events and book do's!
Sue Martin
Dolphin Booksellers – the best in children's books always on line
Bookmonitor is our news source for reviews and project information.
Books go Walkabout
is our international books and literacy project - connecting authors and illustrators with children and young people around the globe.
We use Stripe to handle your e-purchase. Buy with confidence from BgW.
Customer FAQ's here.