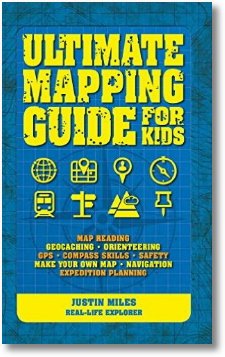 Who needs Google Maps when you can read and learn from the Ultimate Mapping Guide for Kids?
Justin Miles is the author of this extremely inviting mapping guide, published by QED Publishing released on May 20th 2016.
Being so new you may not see it in the bookshops yet, but I can be absolutely certain that when you buy on-line, this book will be used straight away.
It is packed with information from, creating your own map of your room, to a world wide guide on orienteering and navigation. There is a section on using the stars and another on using GPS to find your way.
Try out the new outdoor game of Geocaching ,you can make your own game in the garden, park or nearby outside space.
With its fast pace,clear instructions and nuggets of information, this authoritative guide will appeal to all. Written by Justin Miles, one of the few full time explorers in the world, this book won't just whet your appetite for adventure; it will give you the confidence and the tools to set off on one too.
Justin Miles is a British professional adventurer and has explored The Arctic, climbed mountains, explored deserts and hacked his way through the jungle. He uses his work is support charities and fuel education projects. He is the founder of Just for a Challenge and supports the global education programme Educate a Child.
Books Go Walkabout works in a similar way and supports children across the globe, we recommend Justin's work and especially the Ultimate Mapping Guide for Kids. In fact I am about to set out to the untamed North Norfolk coast this afternoon, armed with this book and a flask of coffee!
Have fun mapping!
Sue Martin
Books Go Walkabout and Dolphin Booksellers

Bookmonitor is our news source for reviews and project information.
Books go Walkabout
is our international books and literacy project - connecting authors and illustrators with children and young people around the globe.
We use Stripe to handle your e-purchase. Buy with confidence from BgW.
Customer FAQ's here.