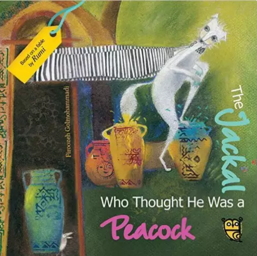 The cover illustration on The Jackal Who Thought he Was a Peacock just makes you want to open the cover.
It is based on a fable by Rumi, a Persian mystic and poet and is retold by Fereshteh Sarlak.
Jackal is unhappy with his dull brown and grey. He dreams of looking resplendent like a peacock. He thinks that this new beauty will win him friendship, rather like the leopard who changes his spots.
The illustrations from Firoozeh Golmohammadi are very exciting and exotic and really engage with the text.
We recommend the book for 5 – 10 yr olds.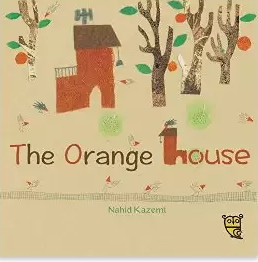 The Orange House written and illustrated by Nahid Kazemi and translated by Azita Rassi. Nahid is an award winning author born in Iran and currently living in Canada.
The small Orange House stands at the end of the alley and is feeling sad and left out as all the other buildings are tall and new.Workmen arrive and head towards the Orange House and eventually she has new things too and knows just how good it feels.
The story is all about relationships and isolation and will help children to find new ways to make friends.
These books are both from Tiny Owl Publishers, they have the most beautiful website, which reflects the care and imagination in their books.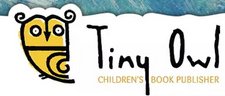 We recommend this book for 5- 8 year olds.
Sue Martin Dolphin Booksellers and Books Go Walkabout
Bookmonitor is our news source for reviews and project information.
Books go Walkabout
is our international books and literacy project - connecting authors and illustrators with children and young people around the globe.
We use Stripe to handle your e-purchase. Buy with confidence from BgW.
Customer FAQ's here.