Return of an old favourite – The Joy of Books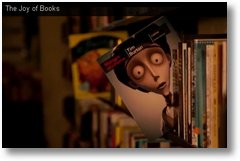 What happens in a bookshop at night when everyone goes home?
Check out what happens when you visit Type Books in Ontario, Canada. Could it happen in your high street too?
Maybe it happens in your own house on the bookshelves, when you are fast asleep…..
Start being creative and have fun, learning too with ideas for children and for adults.
Take two minutes out to watch the video on Dolphin Booksellers. W'er about to have a page for short book videos too. Maybe even a visit to our online anytime book shop and buy a new book, whilst Spring is just about to happen.
Sue Martin
Dolphin Booksellers The best in children's books always on line
Bookmonitor is our news source for reviews and project information.
Books go Walkabout
is our international books and literacy project - connecting authors and illustrators with children and young people around the globe.
We use Stripe to handle your e-purchase. Buy with confidence from BgW.
Customer FAQ's here.