Helen Limon has won the 2011 Frances Lincoln Diverse Voices Children's Book Award to Helen Limon for Om Shanti, Babe, a story about growing up, family and friendships that the judges described as '…fabulous . . . laugh-out-loud funny'.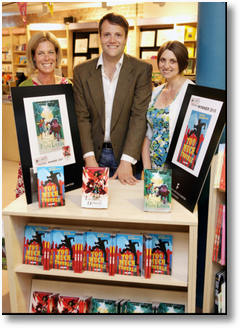 The tale of teenage Cassia, who is forced to drop her preconceived ideas when she joins her mother on a business trip to south India, takes in fair trade and environmental issues alongside Cassia's struggles to accept her mother's new Indian partner, her spiky tussles with fashion-mad friend-to-be Priyanka and her crushes on pop star Jonny Gold and Dev, a boy she meets on a train.
Pictured: Helen Limon (2011 winner) Tom Avery (2010 winner – Too Much Trouble is published today) and Karon Alderman (2011 runner up)
The Award, was founded jointly by Frances Lincoln Limited and Seven Stories, the national centre for children's books, in memory of Frances Lincoln (1945-2001) to encourage and promote diversity in children's fiction.
The prize of £1,500 plus the option for Janetta Otter-Barry at Frances Lincoln Children's Books to publish the novel is awarded to the best manuscript for eight to 12-year-olds that celebrates diversity in the widest possible sense.
Australian author Michelle Richardson received a Special Mention for Tek, a book about a young girl from the Aboriginal Australian Murrinh-Patha community who can communicate with the
ngepan, the spirits of the dead.
Tom Avery, was the winner of the award in 2010 also celebrated the publication on June 23rd of Too Much Trouble.
Sue Martin: Dolphin Booksellers the best in children's books always on line.
Bookmonitor is our news source for reviews and project information.
Books go Walkabout
is our international books and literacy project - connecting authors and illustrators with children and young people around the globe.
We use Stripe to handle your e-purchase. Buy with confidence from BgW.
Customer FAQ's here.