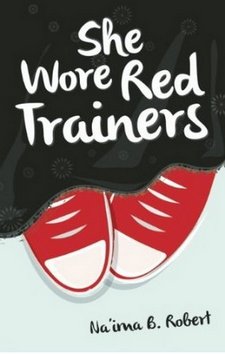 When Ali first meets Amirah, he notices everything about her – her hijab, her long eyelashes and her red trainers – in the time it takes to have one look, before lowering his gaze. And, although Ali is still coming to terms with the loss of his mother and exploring his identity as a Muslim, and although Amirah has sworn never to get married, they can't stop thinking about each other.
Can Ali and Amirah ever have a halal 'happily ever after'?
This book is recently published by Kube Publishing, publishers of Islamic literature. It's a stunning novel of young romance, for young people and adults, written by award winning author Na'ima B. Robert.
Falling in love as a teenager is a difficult time and for a young Muslim there are things that make life really hard. 'She Wore Red Trainers' is brilliant at being right there with the characters.
Nai'ima was born in England, grew up in Zimbabwe and converted to Islam in 1998 at the age of 21after visiting Egypt as a student. She graduated from the University of London and is founding editor of the UK-based Muslim women's magazine, Sisters.
She has published many picture books with Muslim themes and four young adult novels: From Somalia, With Love, Boy vs Girl, Black Sheep and Far From Home. You can discover Na'ima B. Robert's collected works on Amazon.co.uk here.
She has also published a memoir, From My Sisters' Lips, and a series of children's non-fiction books under her family name, Thando McLaren. Na'ima B Robert is married with five children and divides her time between London and Egypt.
You can buy direct from Kube Publishing  or from Amazon.co.uk here…
Sue Martin Dolphin Booksellers – the best in children's books always on line
Bookmonitor is our news source for reviews and project information.
Books go Walkabout
is our international books and literacy project - connecting authors and illustrators with children and young people around the globe.
We use Stripe to handle your e-purchase. Buy with confidence from BgW.
Customer FAQ's here.