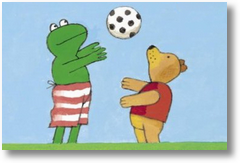 May give-away from Bookstart!
Last chance to enter the competition to receive a free picture book from Bookstart.
This month you can win a wonderful picture book from Max Velthuijs , either  Frog finds a Friend or Frog is Frog.
Great books to have and to share with your children. There is a whole series of Frog books and the illustrations are terrific, simple and appealing in the same way as the Maisy series.
The Frog titles have been translated into over 50 different languages and there stories and simplicity have the same appeal the world over.
'Frog is worried about his health: His heart is beating too fast. His friend Hare says that he must be in love – but who is he in love with?'
From Frog in Love 1989
The Bookstart website has a huge range of information and details about future events. The front page is just a delight, watch the bear and his friends come out of the sandcastle armed with books.
The  Booktrust Children's Books site has even more information about the whole range of children's books.
But try the May competition, there may just be chance over the holiday weekend and you may be lucky.
Bookmonitor is our news source for reviews and project information.
Books go Walkabout
is our international books and literacy project - connecting authors and illustrators with children and young people around the globe.
We use Stripe to handle your e-purchase. Buy with confidence from BgW.
Customer FAQ's here.