Quick Reads are a really good way to find your way into books. In fact they are an excellent read in their own right and they have been a huge success.In the last four years they have distributed over 1 million copies and introduced thousands of new readers to books.
2010 is their fifth anniversary and they have some exciting titles lined up already including Doctor Who and the Code of the Krillitanes by Justin Richards.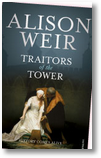 Traitors of the Tower is written by Alison Weir. She is a great author who specialises in historical novels, based very closely to facts and research. For a larger novel try also Innocent Traitor or The Lady Elizabeth.
The back lists for Quick Reads are still available and definitely worth checking out. They are all written by best selling authors and include some celebrities too. The Quick Read website has lots of information and a chance to write a review about the books.
At Dolphin Booksellers we would be really interested in bringing some books and authors for an event for your organisation. Our City Stories website has more information too.
Bookmonitor is our news source for reviews and project information.
Books go Walkabout
is our international books and literacy project - connecting authors and illustrators with children and young people around the globe.
We use Stripe to handle your e-purchase. Buy with confidence from BgW.
Customer FAQ's here.