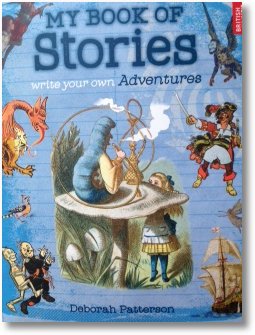 My Book of Stories -write your own adventures by Deborah Paterson
This is a thrilling book and is packed with ideas to write your own adventures. Create your own characters and use your imagination to share adventures. Dream up thrilling pirate escapades on the high seas or let your ideas soar as you imagine life at a Jungle School.
The book combines as a book with ideas on every page and as an activity book to write or draw as your story unfolds. The pages are very tempting to start work straight away.
The story starters are from the very best children's authors, such as Rudyard Kipling, J.K Rowling, JM Barrie and Arthur Ransome. Which new character, for instance, would you add to the Wizard of Oz and could you fill in the ships log for Phileas Fogg?
A great book for a gift, maybe following a visit to the library, or for in school. We recommend for 8 years and upwards.
My Book of Stories – write your own Shakespearean tales. By Deborah Paterson.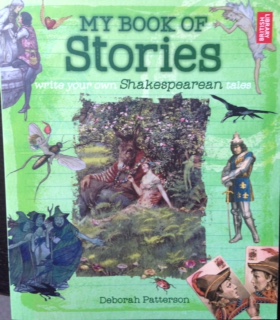 A wealth of Shakespearean characters, plots and stories are brought to life in this compendium of tales, activities and ideas. An intriguing book with an activity on each page, such as write your own fairy song for Midsummer Nights Dream or draw a secret disguise as in Twelfth Night.
The illustrations are beautiful and are taken from British Library collections.
This book would be an excellent resource as we celebrate the 400th anniversary of Shakespeare's death and also on Shakespeare Week, on 14- 20th March.
We recommend for 9 – 13 year olds and for adults too!
Dolphin Booksellers and Books Go Walkabout are pleased to support the British Library through blogs and Twitter.
Sue Martin
Bookmonitor is our news source for reviews and project information.
Books go Walkabout
is our international books and literacy project - connecting authors and illustrators with children and young people around the globe.
We use Stripe to handle your e-purchase. Buy with confidence from BgW.
Customer FAQ's here.