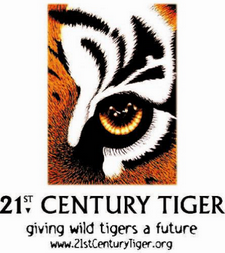 Jackie Morris, children's book illustrator and author has some wonderful illustrations of tigers. These fill many of her books with colour and splendour, and capture that engaging image of the tiger in the wild. Yet, within the picture lies a sense of majesty,strength and compassion.
The original watercolour from the book, Lord of the Forest, illustrated by Jackie and written by Caroline Pitcher is being donated by Jackie and auctioned on eBay in aid of the 21st Century Tiger.
From the 21st March for 10 days you can bid in the auction for the painting.
21st Century Tiger is a unique fund raising partnership between the Zoological Society of London and Global Tiger Patrol.They raise money to support conservation products throughout Asia.
Jackie says." Even though in my lifetime I may never see a tiger in the wild, my world is a richer place for knowing that these wonderful creatures are there…. It is my hope that when I have grandchildren tigers will still walk through their dreams and through the forests of the world as living creatures and not something from history, creatures of myth."
Information can be found at 21st Century Tiger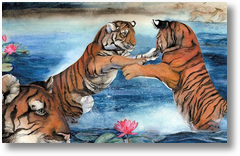 Dolphin Booksellers – bringing you the best in children's books always on line.
Bookmonitor is our news source for reviews and project information.
Books go Walkabout
is our international books and literacy project - connecting authors and illustrators with children and young people around the globe.
We use Stripe to handle your e-purchase. Buy with confidence from BgW.
Customer FAQ's here.