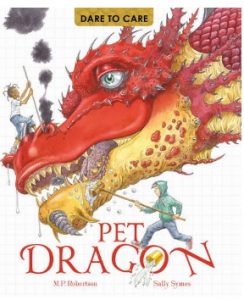 Have you ever wondered how to look after your dragon? Once caught and living with you, looking after a dragon is not an easy pet option!
From choosing the type of dragon to assisting in learning how to fly… this is the book for you!
The illustrations are captivating and appealing and dragons of all sorts and all colours and kinds are shown in detail of scales, fiery tongues and flames with boxes of text to read and enjoy.
The idea was conceived by M.P Robertson, and written by Sally Symes, and finally published by Frances Lincoln Children's Books, who have a brilliant knack of spotting a great book potential.
If you are feeling brave… visit M.P Robertson website and you can find ways to draw and do more with dragons.


But first, we recommend that you buy the book and then when you have your dragon, let us know how.
PS Warning !! Never feed your dragon Brussel Sprouts!
Sue Martin

Bookmonitor is our news source for reviews and project information.
Books go Walkabout
is our international books and literacy project - connecting authors and illustrators with children and young people around the globe.
We use Stripe to handle your e-purchase. Buy with confidence from BgW.
Customer FAQ's here.