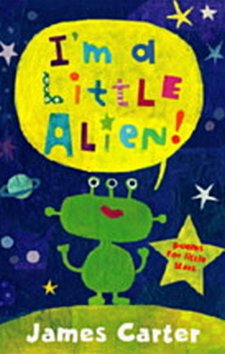 A magical collection of poetry for any child and especially for Early Years. I'm a Little Alien written by James Carter and illustrated by Mique Moriuchi is perfect for all little stars.
Frances Lincoln has a great reputation for new and inventive children's books and this fits well with their poetry collection.
One of my favorites is Beware!
….Forest dweller
grizzly-fella
sneaking, lurking
here and there
you beware-
there's a BEAR !
Buy for nursery and Foundation Stage settings or for parents and children to share together.

Sue Martin – Dolphin Booksellers – the best in children's books always on line
Bookmonitor is our news source for reviews and project information.
Books go Walkabout
is our international books and literacy project - connecting authors and illustrators with children and young people around the globe.
We use Stripe to handle your e-purchase. Buy with confidence from BgW.
Customer FAQ's here.