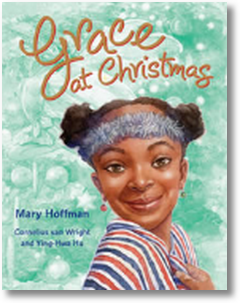 Don't tell me, we really should be thinking about books for Christmas.
Grace at Christmas by Mary Hoffman, is a good way to start. Published by Frances Lincoln it's a story of Grace and her plans before Christmas, including the cat playing the part of all the animals in the Nativity.
So the introduction of Savannah and her aunt who couldn't make the trip back to Jamaica in time had a few problems that made Grace think.
But she shared her home, her bedroom and even all her plans too.
A beautiful book with wonderful illustrations by Cornelius van Wright.
Sue Martin
Dolphin Booksellers – the best in children's books always on line
Bookmonitor is our news source for reviews and project information.
Books go Walkabout
is our international books and literacy project - connecting authors and illustrators with children and young people around the globe.
We use Stripe to handle your e-purchase. Buy with confidence from BgW.
Customer FAQ's here.