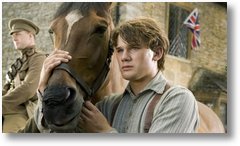 War Horse, that amazing book written by Michael Morpurgo, and dramatised in the West End at the New London Theatre will shortly be available at the movies.
Steven Spielberg's latest film production, War Horse, is opening at cinemas on January 13th. It has already been acclaimed for its powerful and thought provoking message.
With a great line up of actors, including Benedict Cumberbatch, Emily Watson and Peter Mullen, and over 200 horses, trained by Bobby Lovgren the film shows the story of the relationship between a boy and a horse.
But yet, there is so much more…. more than a million horses were sent to the front during the first World War,only 62,000 returned. The horse, Joey,is taken through so many different places and into such horrendous situations. It is a tale of endurance, courage and the pitiful way that war treats humans and animals alike.
There are many newspaper editorials, but try The Observer or The Guardian for some extra information.
A remarkable film, an outstanding theatre production and an even better story, written and developed by Michael Morpurgo.
See you at the movies
Sue Martin
You can buy the book through Dolphin Booksellers– the best in children's books always on line
Bookmonitor is our news source for reviews and project information.
Books go Walkabout
is our international books and literacy project - connecting authors and illustrators with children and young people around the globe.
We use Stripe to handle your e-purchase. Buy with confidence from BgW.
Customer FAQ's here.