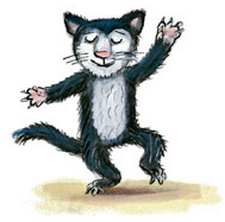 Poetry is back on the agenda!
It certainly was for all those who entered the Old Possum's Children's Poetry Competition. On Friday 10th December the winning young poets were presented with their book prizes.
There were twelve prize winners and a further eight received commendations. They were all between the ages of 7 and eleven. One of the poems is featured below.
Home
Hearing my dad on the computer.
Hearing the quiet buzz of the heater.
Hearing the cars rushing past.
I know I am home.
Smelling paint as I walk past the wall.
Smelling the food being cooked.
I know I am home.
Touching the peach wall when I walk in.
Touching my toys and start playing with them.
I know I am home.
Setting the food on the table ready to eat.
Seeing the furry stairs in the corridor.
I know I am home.
By Michael Hills, aged 8, from Yateley Manor, Hampshire
All winning entries are on Children's Poetry bookshelf . The judges of the Old Possum's Children's Poetry Competition, led by Chair Roger McGough, selected twelve children as winners of the Competition, with a further eight receiving high commendations. The judges awarded 1st, 2nd and 3rd prizes to children in two age groups (7-8 and 9-11).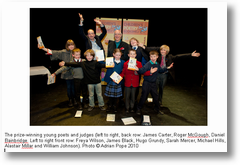 This international Poetry Competition, now in its fifth year, is run by the Children's Poetry Bookshelf, a poetry book club for young people run by the Poetry Book Society. To link with National Poetry Day on Thursday 7 October, children aged 7-11 were invited to submit poems on the theme of 'Home'.
The partnership with the British Council boosted entries to the 'International Learners' category for children based outside the UK who are learning English as a foreign or second language. In total, well over 3,000 entries were received from schools and individual children worldwide, nearly a quarter of which were from 31 countries other than the UK.
Roger McGough said:
"'Home' proved to be a fruitful subject for this year's crop of young poets and the judges relished those poems in which the child's imagination was let loose. More than attention to domestic detail, the sounds and smells, the furnishings, the judges relished those poems in which the child's imagination was let loose. Above all, it was a delight to witness very young writers discovering the power and the joy of language."
Sue Martin
Dolphin Booksellers, the best in children's books, always on line
Bookmonitor is our news source for reviews and project information.
Books go Walkabout
is our international books and literacy project - connecting authors and illustrators with children and young people around the globe.
We use Stripe to handle your e-purchase. Buy with confidence from BgW.
Customer FAQ's here.