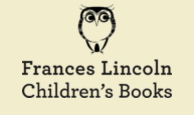 A brilliant series of books about the lives of women who have made a difference. Frances Lincoln Children's Books, part of Quarto Knows, have produced eight books in this series, published in hardback, with stunning illustrations and aimed at children from around 6-9 years.
At Books Go Walkabout we know they also make excellent books  for older children in schools around the world who are translating from their own language into English.
The three latest books, released in August 2017 are Rosa Parkes, Emmeline Pankhurst and Audrey Hepburn. If you would like to purchase them, we have an online purchasing system or you can contact us direct for larger quantities.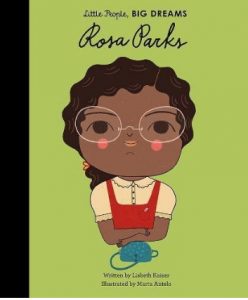 Rosa Parks is written by Lisbeth Kaiser and illustrated by Marta Antelo.
Rosa was the 'Mother of the Freedom Movement' and an inspiring activist for civil rights in Alabama in the days of segregation on public transport.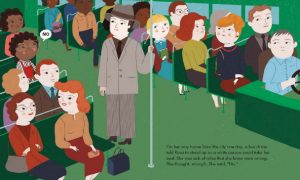 She knew that many of the rules just weren't right and one day when travelling on a bus she refused to allow someone else to take her seat just because she was a black woman.
As a result she was taken from the bus and jailed.  The rest is history! Rosa made such a difference to people's lives. She remained a activist for the rest of her life and was an inspiration to many people.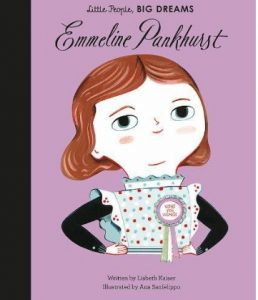 Emmeline Pankhurst is written by Lisbeth Kaiser and illustrated by Ana Sanfelippo.
Emmeline was one of the famous suffragettes in the early 20th Century protesting against the government for the vote for women, as up until 1918, women had no rights to vote.
'Emmeline and her daughters became the leaders of a new group of women, a group that would stop following the rules and would fight for their rights. People called them suffragettes.'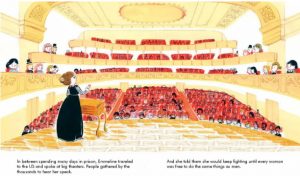 The text is appealingly written and gives a good idea of how life was in the early 20th Century. The illustrations are delightful and add hugely to the impact of the book in portraying life at that time.


Audrey Hepburn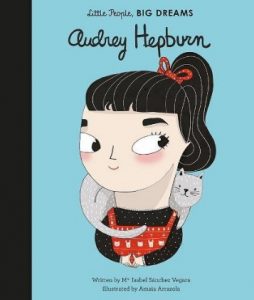 Isabel Sanchez Vegara (Author) and Amaia Arrazola (Illustrator)…
Audrey is an iconic figure from the 1950's but her life started in Holland during the World War 2, she experienced hunger and became very ill. When her mother finally was able to come to England Audrey pursued her dream of acting and dancing starring in Gigi and Breakfast at Tiffany's.
Later, when she had retired she became a Goodwill Ambassador with UNICEF and travelled the world raising awareness of children needing food and medicine, something which she had experienced first-hand.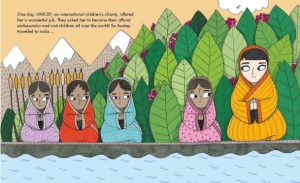 The text is good to read and accessible for children from around the ages of 6, and the illustrations are beautiful, bold and full of character.


Little People, Big Dreams… an apt title for this series of books which will bring to young children the lives of people who have made a huge difference. Alongside the story there is a time-line and further historical context. Great little books in the classroom and library.
Sue Martin

Bookmonitor is our news source for reviews and project information.
Books go Walkabout
is our international books and literacy project - connecting authors and illustrators with children and young people around the globe.
We use Stripe to handle your e-purchase. Buy with confidence from BgW.
Customer FAQ's here.