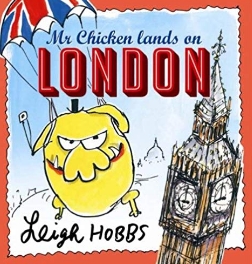 Mr Chicken arrives in London via parachute, without wasting any time on immigration control he sets off to see as many of the famous sights as he possibly could.
He sails over the Houses of Parliament, and lands in the River Thames.
Although no-one seemed to notice and heads off to the Savoy Hotel, which is THE place to stay in London.
Mr Chicken visits Buckingham Palace and has tea with the Queen before heading off across Piccadilly Circus and the London Eye.  Amazingly, Mr Chicken blends in well with the local people and other tourists before heading back home 'down under'.
A brilliant picture book about a loveable character making his way across the centre of London.  Explore the city of London with Mr Chicken and find all the most famous sights. Leigh Hobbs is excellent at portraying characters in different places and Mr Chicken Arrives in London is part of a series of books about travels into European cities.

Leigh Hobbs is an award-winning writer and illustrator of a whole range of books, including the Mr Chicken series, Old Tom, Horrible Harriet and my favourite, Mr Badger.
He was Australian Children's Laureate in 2016-17 travelling and visiting schools as an advocate for children's books. He has an amazing collection of titles. Leigh lives in Melbourne, Australia and is also an artist, a sculptor, and indeed a great traveller himself.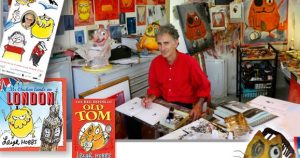 Mr Chicken is published by Allen and Unwin, Australia and is available in the UK. Click the book image to buy.
Books Go Walkabout have planned a tour of schools and organisations in the UK for Leigh this autumn, October 2018. He is a great hit with the schools and children and instantly gets children interested in Mr Chicken and other characters, looking at; how to draw a character, how to add the text and best of all how to make the book fun.
We recommend Mr Chicken Lands on London for ages 4-9 and of course parents too.
Sue Martin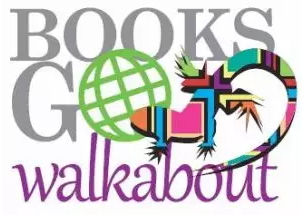 Bookmonitor is our news source for reviews and project information.
Books go Walkabout
is our international books and literacy project - connecting authors and illustrators with children and young people around the globe.
We use Stripe to handle your e-purchase. Buy with confidence from BgW.
Customer FAQ's here.