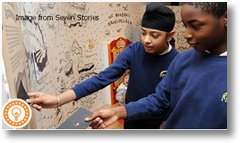 Seven Stories, the National Centre for Children's Books has reached the finals of the National Lottery Award.
This is a fantastic centre with a wealth of exhibitions and information on children's books in the UK.
It deserves your vote!!
"Children's books are an essential part of our childhood, national heritage and culture. Everything we do at Seven Stories is aimed at inspiring children and adults to be curious, imaginative and creative. We strive to ensure people of all ages, backgrounds and abilities can take part and enjoy a lifetime of reading for pleasure. It is a tremendous honour to be nominated for a National Lottery Award and we hope we can harness the energy and support of everyone young and old to vote for us and make us a winner." Kate Edwards, Chief Executive
The Awards are an annual search to find the UK's favourite Lottery–funded projects, and they aim to recognise the difference that those projects have made to people, places and communities all across the UK.
With the mission to save, share and celebrate our rich heritage of children's books to inspire a love of reading across generations, Seven Stories is competing against six other projects for the title of Best Education Project. The winner will accept the award on BBCTV and receive a £2,000 cash prize. Voting has opened and closes at midnight on 24 July.
Vote at National Lottery Good Causes or at Seven Stories.
Sue Martin – Dolphin Booksellers – the best in children's books always on line
Bookmonitor is our news source for reviews and project information.
Books go Walkabout
is our international books and literacy project - connecting authors and illustrators with children and young people around the globe.
We use Stripe to handle your e-purchase. Buy with confidence from BgW.
Customer FAQ's here.