Seven Stories is the National Centre for Children's Books. Nowhere else in the UK matches the uniqueness of Seven Stories.
There are collections from authors with titles galore and notes of their work as it progressed. There are amazing original pieces of artwork from illustrators, as well as the printed book.
Seven Stories are custodians of the only collection in the world of British authors from 1930's to present day.
Children's books change the lives of those who read them, they capture thoughts and feelings, they create adventure and exploration, they help children to face and understand the world.
The centre has many roles and activities, including workshops, events for children of all ages, connections with schools in the North-East. It has a wonderful bookshop and a café for lunches, with a view over the Ouseburn river.
Exhibitions have a big place in Seven Stories. The two exhibitions running now are about Bears and Comics. There are also exhibitions with material from previous exhibitions, archived digitally and accessible as a resource. Once the exhibitions have finished at Seven Stories they often go on tour around the country, such as the recent Michael Morpurgo exhibition, on tour this year.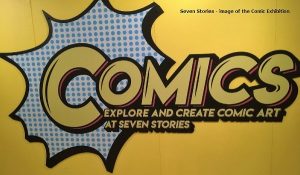 The Comics exhibition, is showing until Summer 2018 on the fifth floor and once you enter, you are immersed in the world of comics, old and new.
Comics, illustrations, graphic novels, adventure, showing a whole world of characters and story. One page of a comic would lead you into another world with weekly episodes keeping you on the edge of your seat. There are many favourite characters, heroes and superheroes, good guys and bad guys.
The exhibition is set out to show the different aspects of comics; story, character, setting, props and power, and style. As you journey through the exhibition there is a really good sense of the components of creating a comic adventure, with characters and plots larger than life! The quality of the illustrations and huge amount of time involved in creating a page with many panels of sketches is enormous.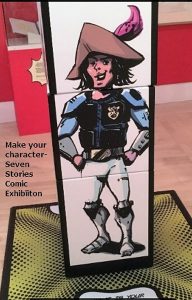 A story for a comic is generally made in a series of panels, with each panel including some words in speech bubbles or a displayed text, but often there are no words at all!
Characters can be anyone really, monsters, jokers, friends, people you know or even yourself. The exhibition shows how you can define your character in clothes, height, features and special powers.
Other areas are Props and Power; an amazing collection held in some drawers of destiny and a wardrobe full of ideas or possible impossibilities!
Alongside the comics with superheroes and other characters were also some well-known novels, made into comic or graphic style. My favourite was Tom's Midnight Garden, which looked amazing and also Moomin on the Riviera, The Snowman, Guardians of the Galaxy and Asterix.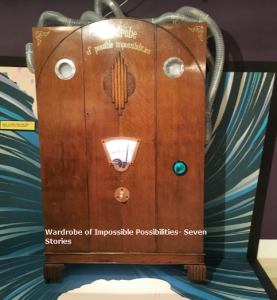 This is a fantastic exhibition and we could well have spent a whole day there.
The team at Seven Stories, who collate and present the exhibitions, have real professionalism and flair in the creation of this amazing space, especially the interactivity of many of the displayed artefacts.
Maybe one day soon, I will go back and wander into the Wardrobe of Impossible Possibilities. If you visit the exhibition and find the wardrobe you may discover new  solar systems, characters and stories within.
A visit to Seven Stories and the Comics Exhibition is a must for the school holidays or at any time.
Sue Martin
Further reading and exploration of 'the comic'?
https://comicswap.wordpress.com/       https://comicsclub.blog/
Great archive and news stories on a theme, featured links at the exhibition.
---
Image Credits: With thanks to Seven Stories for the images of the 'front door' and the magical wardrobe...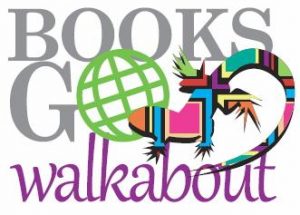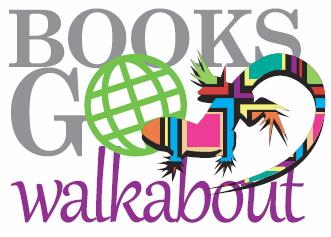 Bookmonitor is our news source for reviews and project information.
Books go Walkabout
is our international books and literacy project - connecting authors and illustrators with children and young people around the globe.
We use Stripe to handle your e-purchase. Buy with confidence from BgW.
Customer FAQ's here.