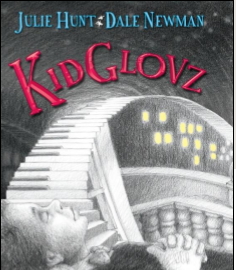 This is a book with a difference, it's a graphic novel in hardback, with an incredible number of drawings, vividly brought to life in black and white to tell this amazing story of Kid, his music his kidnap and all the characters who appear on the way.
Kid Glovz is a musical genius. His gift is so precious that he's kept under lock and key. But when a young thief helps him escape, Kid must embark on a perilous journey through which he will discover the terrifying nature of his talent. A spellbinding graphic fable about friendship and freedom.


The story is full of mystery, an adventure with real danger and otherworldliness, a gripping tug-of-war between the forces of good and evil. It is a beautifully produced graphic novel for children, and on Julie's website you can read the background to the story.
The author, award-winning Julie Hunt has written some amazing titles, including Little Else and a Song for Scarlet Runner. She lives on a farm in Southern Tasmania, she has a love of dramatic landscapes and has used these to build stories full of imagination and intrigue.
Dale Newman's stunning artwork is reminiscent of Shaun Tan's The Arrival and has the same air of foreboding in many of the pictures. Kid Glovz is her first epic graphic novel and a stunning start to a career in children's books. She lives in New South Wales, Australia and is also used to some amazing landscapes.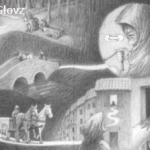 Allen and Unwin, Australian publishers have a star packed book list and KidGlovz is bound to be a great success. In Australia it has already won 2016 QLD Premier's Literary Awards, Children's Books and short-listed for  2016 CBCA Book of the Year, Crichton Award for New Illustrators
Books Go Walkabout recommend KidGlovz for children aged about 9+ and for adults too.
Sue Martin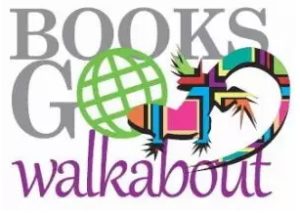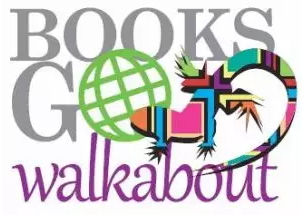 Bookmonitor is our news source for reviews and project information.
Books go Walkabout
is our international books and literacy project - connecting authors and illustrators with children and young people around the globe.
We use Stripe to handle your e-purchase. Buy with confidence from BgW.
Customer FAQ's here.