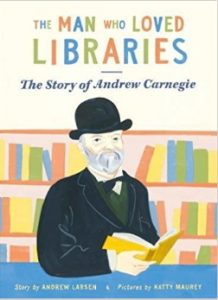 Scottish born Andrew Carnegie's gift of over 650 public libraries to the UK and Ireland was an astonishing and long-lasting legacy. It has changed many cities and towns for the better.
It has given opportunities for anyone to read a wealth of books without having a wealth of money.
'The Man Who Loved Libraries, The Story of Andrew Carnegie',written by Andrew Larsen and illustrated by Katty Maurey is published by Pikku Publishing on 1st May 2018.
'When you open the door to a library, a world of opportunity awaits…'


When Andrew was young, life was hard and economics meant that many families, including the Carnegie family, living in Scotland, moved to America. Andrew grew up working for his living in Pittsburgh, as a bobbin boy, and a telegram messenger. But he was always quick to learn and found many ways to create business.
Andrew believed that learning was the key to his future, and a Colonel Anderson opened the doors to his private library on Saturday afternoons. This left a lasting impression on Andrew. As well as soaking up the knowledge which enabled him to create his fortune in the Pennsylvania Railroad Company and other investments, he was determined to leave a legacy of libraries to support others.
This is a fascinating book, the style and layout create a chance to read sections of information in 'bite size chunks' as provided by the Canadian  author Andrew Larsen.
The iluustrations, from Canadian, Katty Maurey,,are engaging and give an excellent feel to the period in history.
The publishers, Pikku Publishing, have produced a wonderful book, not only for the text and the illustrations, but in the way it will lead the reader into further discovery.  For instance the pages at the end of the book provide  information and ideas about Andrew Carnegie and provide all the research material used in creating the book.

We thoroughly recommend this is both as an excellent  book and  a great resource in schools and at home for children from 6 – 12 years.
Sue Martin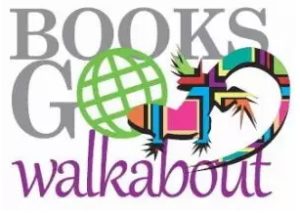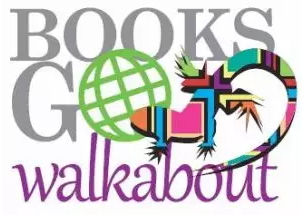 Bookmonitor is our news source for reviews and project information.
Books go Walkabout
is our international books and literacy project - connecting authors and illustrators with children and young people around the globe.
We use Stripe to handle your e-purchase. Buy with confidence from BgW.
Customer FAQ's here.