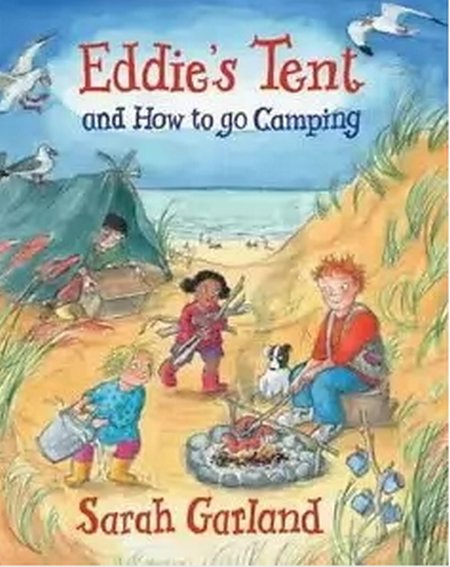 When Mum, Tom, Tilly, Lily and Eddie decide to go on a holiday, a camping trip sounds like the ideal break.
After setting up camp, there are lots of adventures ahead for Eddie and his family.
The first adventure was how to get the tent in place and eventually beds are ready and Mum has a flask of hot chocolate, even though she looks very ready for sleep herself!
A wonderful new book about a family holiday, with adventures for Eddie along the way, including a hunt for Bouncer the dog, in the big dark wood. This will have appeal for parents, boys and girls. The illustrations are great and show the characters of the children really well. At the end there is a section on Tips for Campers and a note on knots, and a charming picture of how to tie the dog's lead to a tree!
It is written and illustrated by Sarah Garland and published by Frances Lincoln Children's Books.
A book which will certainly find a place in my bookshelf.
Sue Martin Dolphin Booksellers – the best in children's books, always on line.
Bookmonitor is our news source for reviews and project information.
Books go Walkabout
is our international books and literacy project - connecting authors and illustrators with children and young people around the globe.
We use Stripe to handle your e-purchase. Buy with confidence from BgW.
Customer FAQ's here.