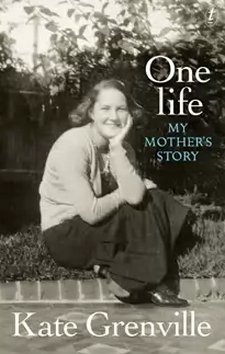 Kate Grenville was in conversation at the Australia and NZ Festival of Literature and Arts in London on Saturday 30th May.
Her new book One Life, has just been published with Cannongate. It is the story about her mother Nance, born in 1912 in New South Wales. A remarkable story, not because Nance became famous or wealthy but the story is about a woman growing up in a harsh family, in Australia in the 1920's and onwards.
After training as a pharmacist, she went to work in a local chemist and learnt much more about life than dispensing drugs.
Kate Grenville has a remarkable way of telling a story and after a few minutes of conversations and readings from One Life, it felt that we knew this woman Nance, her character of directness and ambition, to do all she could to make the most of life. As a young girl this was not easy at that time, but her determination was unstoppable!
It was a schoolteacher who changed her life and Mr Crisp, left her with a love of literature. Nance instilled in Kate a love of words, Nance had poetry in her mind and was able to deliver apposite quotes just when needed.
This was an amazing chance to listen to Kate Grenville and also hear about the very special book, The Secret River.

So now to read the book, One Life, from the opening pages it will be a book that will be hard to put down.
Check out the website for further conversations and adventures at the Australia and New Zealand Festival with lots of exciting authors.
Sue Martin
Bookmonitor is our news source for reviews and project information.
Books go Walkabout
is our international books and literacy project - connecting authors and illustrators with children and young people around the globe.
We use Stripe to handle your e-purchase. Buy with confidence from BgW.
Customer FAQ's here.