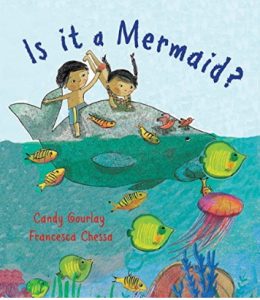 When Benji and Bel find a strange creature on a tropical beach they know it is a dugong. But the dugong insists she is a beautiful mermaid.
After many attempts to convince the children that she really is a mermaid the dugong swims away with her tail splashing into the warm ocean.
Bel believes her but Benji is very practical and just can't make the connection. But they all play together with the turtles, and the fishes.
At the end of the day as the sun is disappearing, and the illustrations become gradually softer, the dugong says goodbye to Bel and Benji.
"I have to go," she said. "Mermaids never stay out after dark!"
The last page is a beautiful purple colour and Ben and Benji walk home in the sunset along the beach to the little wooden cabin.
"I love mermaids!" said Bel.  "Me too," said Benji.


The first picture book from Candy Gourlay, whose acclaimed novels for young readers, Tall Story and Shine have been listed for the Carnegie Medal and the Guardian's Children's Book Prize and both won the Crystal Prize for Europe.
Candy Gourlay is from the Philippines and grew up in Manila. As a child she often wondered why the books that she loved reading were all about pink skinned children and snow covered mountains, it was not like that in the Philippines. So she was determined to become an author and make some changes to the stereotypes.
At Books Go Walkabout, we work in many countries and these aims reflect our own, for books and stories to be meaningful to all children. There are always stories to be told wherever you are.
Francesca Chessa has illustrated over 40 books, including Elliot's Arctic Surprise and Library Lily. She lives in Turin and holds art workshops for children and adults.
Otter-Barry Books in London, is an exciting children's imprint making a difference and pushing boundaries of the standard book publishers.
We strongly recommend, Is it a Mermaid? The text and the beautiful illustrations will make it a favourite in schools, libraries nurseries and at home.
Sue Martin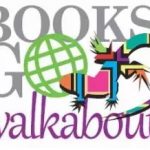 Bookmonitor is our news source for reviews and project information.
Books go Walkabout
is our international books and literacy project - connecting authors and illustrators with children and young people around the globe.
We use Stripe to handle your e-purchase. Buy with confidence from BgW.
Customer FAQ's here.