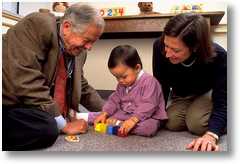 The government is to spend £3million pounds on training children's centre outreach workers. This is a drive to ensure that the most disadvantaged families are reached and the needs of all children and families are being met.
Now that children's centres have been running for some time they are good at planning and delivering services and activities and ensuring in many cases that financial stability is a priority.
Our partnership is involved in developing children's centres and continues to support them in both their marketing and work with the community. The local neighbourhood and a knowledge of families and organisations can make so much difference to ensuring that they are part of the community and not seen as another service beyond a closed gate.
Over 5000 workers are intended to be part of the training programme, which is being developed by Children's Workforce Development Council. It is being provided by National Children's Bureau through a programme called Families Going Forward and underpinned by 4Children.
Bookmonitor is our news source for reviews and project information.
Books go Walkabout
is our international books and literacy project - connecting authors and illustrators with children and young people around the globe.
We use Stripe to handle your e-purchase. Buy with confidence from BgW.
Customer FAQ's here.