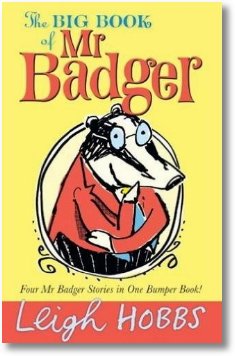 Mr Badger is always on hand to cope with many surprises at the Boubles Grand Hotel.
My favourite story is Mr Badger and the Missing Ape. Algernon is usually kept stuffed in a glass case in the lobby. But Lady Celia's granddaughter is not happy with this gorilla and wants it sent away. As she usually gets just whatever she wants the alarming disappearance one morning gives Mr Badger quite a task, but solve it, he does.
There are four stories in the one book, which is full of brilliant sketches and the characters really come to life.
Mr Badger is written by Leigh Hobbs, who has an amazing talent for writing and for illustrating too. He has a great website for a whole range of his books.
This year he has been appointed as the Australian Children's Laureate and there are whole host of great activities for children all over the world as well as Australia.
Mr Badger is published by Allen and Unwin, Australia and can be purchased here in the UK.
A great book and we recommend for children 7+, especially for those who still get a lot from the images through each chapter.
Sue Martin Books Go Walkabout and Dolphin Book Blog
Bookmonitor is our news source for reviews and project information.
Books go Walkabout
is our international books and literacy project - connecting authors and illustrators with children and young people around the globe.
We use Stripe to handle your e-purchase. Buy with confidence from BgW.
Customer FAQ's here.