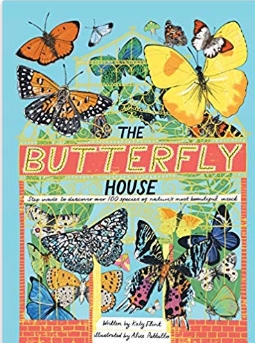 Step inside the butterfly house, where wonderful, winged insects await. Spot the Banded King Shoemaker and the Monarchs, part of the Brush-Footed Butterflies. The number of species and their differences would fill a huge museum of drawers and glass show cases. 
The Butterfly House shows a number of different species in a glorious collection of illustrations and bite size info boxes. Did you know that there are over 11,000 species in the Tiger Moths family?  Their caterpillars have fuzzy bodies and are often known as 'woolly bears'. Sounds like my kind of caterpillar.
It is a beautiful hardback book and a good size for the best display of the illustrations, which are captivating and entwined with the text to create a book  just waiting to be picked up.
Katy Flint, writes children's books and lives in East London, her best selling book is The Story Orchestra and she has worked on non-fiction titles from human bodies to dinosaurs.
Alice Pattullo is an illustrator also based in East London. Alice works on commissioned illustrations and has a huge number of clients including; National Trust, Sainsburys and the V&A Museum.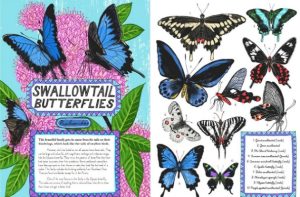 Frances Lincoln Children's Books are famous for their excellence in children's books across the world and have titles in over 45 countries and 35 languages.
The Butterfly House is just the sort of book I am looking for, to sit and read after a walk towards the beach this summer. We recommend for children from 5- 9 and for adults too.
Sue Martin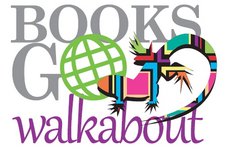 Bookmonitor is our news source for reviews and project information.
Books go Walkabout
is our international books and literacy project - connecting authors and illustrators with children and young people around the globe.
We use Stripe to handle your e-purchase. Buy with confidence from BgW.
Customer FAQ's here.